Error Ware 2
Here's a quick rundown of things I worked on in the past weeks:
New Abstrácto-Ball animations made with Blender including the new "Dark" (better chance of success at night and in dark places) and "Net" Ball (good for catching Bug- and Water-type Abstráctomon).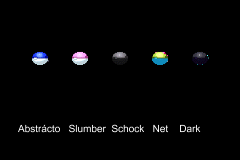 "Darkness" weather effect in battle (increases strength of Dark- and Ghost-type moves and lowers the speed of any non-Dark/Ghost Abstráctomon
A move that can change the weather to "Darkness" in battle
New eye blinking frames when looking left & right while standing and sitting (before the player character would only blink when looking down)
Fixed some bugs involving battle music and leveling up
The ball type you catch an Abstráctomonw with now gets saved and is shown when you call an Abstráctomon or heal them in the Abstrácto-Center. Enemies can use different balls, too.
Fixed some issue with NPC placing after a battle
Improved the framerate when looking at the Trainer Guide
Added information about weather to the Trainer Guide (still have to translate that into French though)
Improved the Atoneel-Tunnel map a bit, you can now find a few items
You can now use ladders with a smooth climbing animation
Fixed an issue where the Error Ware 2 logo did not play sounds sometimes
I need to replicate a bug I encountered once where my Abstráctomon leveled up two levels at once and the game kinda softlocked after the level up jingle...
When I fixed that and did some more test playing I can finally release a new Version of the EW2 demo with a bit of Abstráctomon included, to make the "2017" of the last trailer not a lie... Man time flies!
Sorry that it takes me so long to make this dang game!