UKUMAN X - The Game
A downloadable game for Windows
"UKUMAN X- The Game" was U-GameZ's first (glitchy) PC game adaptation of the "UKUMAN" character, which is an obvious "homage" to Capcom's Megaman.
It even had an "animated" series you can watch here (with a terrible German dub)!
UKUMAN has to defeat all 6 Robot Masters. But that's not as easy as it sounds: 6 + 1 stages full of different enemies make this a challenging game (mainly because of the bad controls)!
This game was originally made in 2008 and is pretty crappy. Ten years later, my coding skills have improved a bit, so if you want to play a good game instead, have a look at Error Ware 2 or SXFSCC.
Features:
This game actually runs!
6+1 unique stages with bosses
7 different weapons
tutorial mode to learn the overly complicated controls
cool music and awesome graphics (well... decide for yourself...)
Story
UKUMAN is a robot boy, who doesn't want to clean up his creator's laboratory. Instead he wants to be a rock star. While they're arguing, a big explosion destroys the underground laboratory!
UKUMAN and Dr. 20, his creator, survive the attack. But UKUMAN wants to find out who attacked them and why...
Controls
Playable with the keyboard only.
| | |
| --- | --- |
| Arrow Keys | Move UKUMAN, choose a stage |
| Enter | Start a stage / skip intro |
| Space | Use your equipped weapon |
| X | Open weapon select |
| B | Select next weapon |
| C | Select previous weapon |
| V | Equip selected weapon |
| right CRTL | Jump / get off a ladder |
| F1 | show help / pause |
| Esc | exit help screen / exit the game |
| L | Load a savegame |
| F4 | Toggle fullscreen mode |
| R | Reset current screen (if you get stuck) |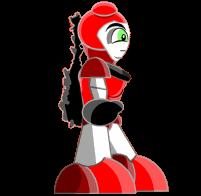 Download
Click download now to get access to the following files:
UKUMAN X-the Game_FINALVERSION.exe
73 MB